Offering a Handyman and General Maintenance Service for Private Dwellings, Commercial Property, Landlords and Agents around Newbury, Thatcham and the surrounding local villages of West Berkshire & Hampshire
More than just a reliable Handyman Service where I know my limitations; whatever you need doing, if I cannot do it, I will generally know someone trustworthy who can do it for you.
Mature Newbury Chap, Experienced & Considerate for All, Just Give D.I.Y. Dave your Precious Call
**From fixing a leaking tap to building your new flatpack**
**From mending the garden gate to the odd jobs you hate**
**From getting a house ready for sale or rent to general office maintenance**
**Big or Small give me a call - If in doubt give me a shout !**
Your free time is valuable, so why waste it attempting DIY and other time consuming tasks.
Know when to call a Handyman! (even the best fixers have their limitations)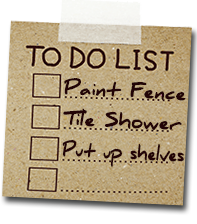 LOADS OF ODD LITTLE JOBS AROUND THE HOME JUST WAITING TO BE DONE! - Write a 'TO DO LIST' of all the niggling odd little bits of jobs, no matter how small you think they are, book me for a morning or day, we'll go around with the list, a quick discussion and maybe some advice to get a 'back burner idea' a stage further and then I'll just get on with tackling the job list, in order of priority if necessary - you'll be surprised how quickly I can have most things sorted, repaired or installed!
HELP TO KEEP YOUR BUSINESS RUNNING SMOOTHLY - Avoid potential Health & Safety issues, comply with your insurance company or generally need a change of layout or redecoration in the workplace to improve working conditions? - just list any small odd jobs around your office, warehouse or shop, make a date in your diary for a regular visit from me and then you can concentrate on your core business!
DO YOU RENT OUT PROPERTY LOCAL TO NEWBURY - I can maintain your property within various levels of Tenancy Agreements and contact the tenant at your request, arrange a visit that suits and report back to you as necessary.
General Maintenance
Painting & Decorating
Tiling & Flooring
General Plumbing
Garden Outbuildings & Structures
Building Flat Pack Furniture
Bathroom & Ensuite Ensembles

Kitchen & Utility Room Ensembles
Landlord & Tenancy General Maintenance
Vehicle Movements & Courier
Office Relocation
Deep Clean
No Job is Too Small!